The Texas Shorthorn Lassies serves as the women's auxiliary of the Texas Shorthorn Association. Officially organized in 1956, Lassies encourage and extend the influence of Shorthorn Breeding, promote the interest of its membership, stimulate greater activity, and cultivate closer relationships. The Lassies also arrange exhibits at state shows, present awards, publicize the breed provide reception committees, and conduct activities that pertain to the State Queen contest and other promotional activities.
MEMBERSHIP FOR THE
TEXAS SHORTHORN LASSIES
is open to females of all ages interested in breeding, raising, or promoting Shorthorn cattle. Many of our members are Shorthorn breeders throughout Texas. Lassies enjoy the opportunity to work together to promote the breed and increase marketing opportunities for their herd.
Fill out this form
Dues: $20 per year
Please make checks payable to Texas Shorthorn Lassies, 401 Billy Creek Circle, Hurst, TX 76053 or via PayPal to [email protected] – please select friends/family not business and put your name/ranch name in the comment.
922 CR B
Olton, TX 79064
806-285-2121
PO Box 61
Bardwell, TX 7501
972-646-5041
PO Box 523
Caldwell, TX 77836
281-684-4809
P.O. Box 538
Grandview, TX 76050
817-995-3757
2023 Lassie Scholarship Application
Annually the Texas Shorthorn Lassie Association awards a $500.00 scholarship. They look at breed involvement, academics, extracurricular activities and financial need. 
The scholarship can be used at college, university or trade school. Applicants must be high school seniors or college freshman. 
Winner will be announced during the annual field day in conjunction with the Texas Shorthorn Association as well as be notified via mail. 
For how to apply click on the application below. Deadline for 2023 is May 15.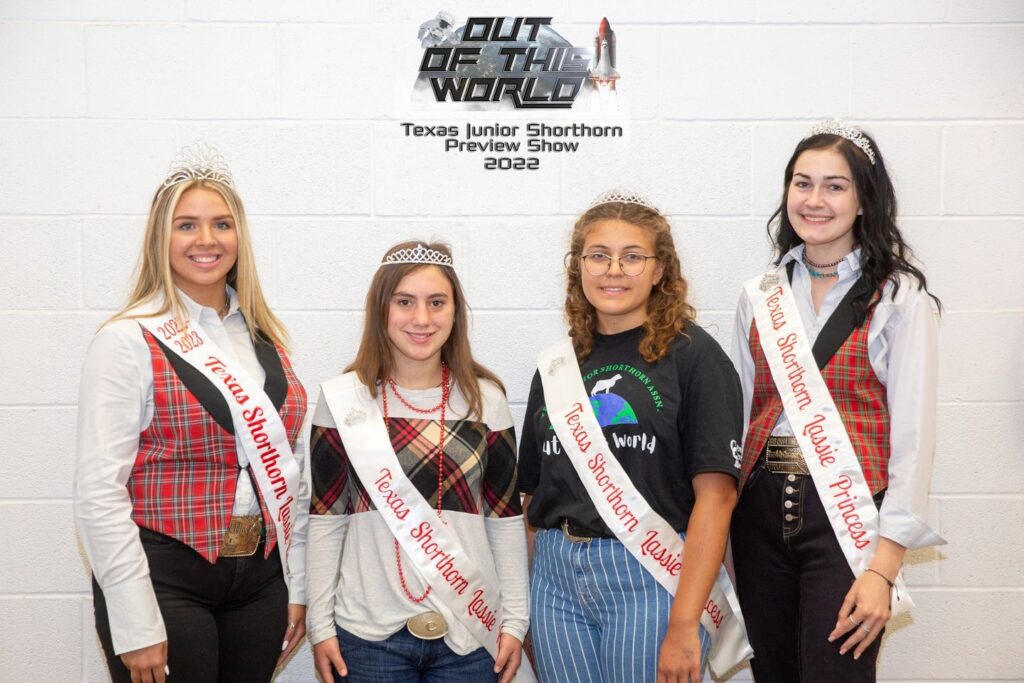 Follow the Texas Shorthorn Lassies on Facebook to keep up with the latest events and news. 
The group is open to all current and former Lassies as well as anyone who supports the Lassies.
2022-2023 Texas Shorthorn Lassie Royalty
Former National Lassie Queens
1959 Carol McCormack McDonald
1971 Judy Northcutt Schlinker
1974 Debbie Wright*
1979 Lisa McAnear Shields
1983 Emilie Overman
1986 Annette Pridday
1992 Kari Cain
2000 Melody Shields
2013 Victoria Osburn
2016 Shelby Armstrong*
2021 Harley Shelton
* indicates alternate queen